Session Prep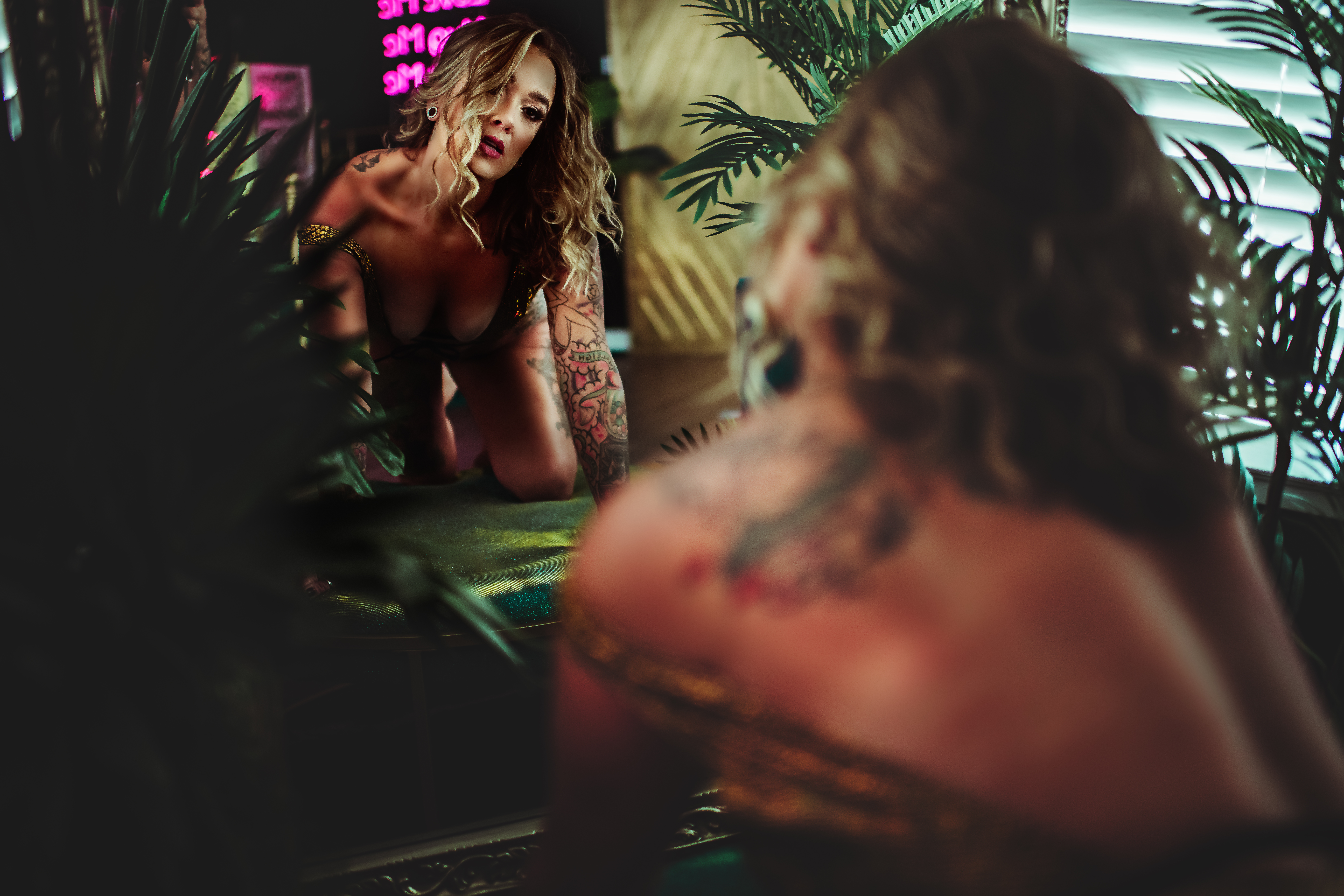 Prepping for your boudoir session is half the work! We know that you might be experiencing a truckload of anxiety in the days leading up to your session, so proper preparation will help the entire process run smoothly.
How To Arrive –
Fresh hair. Wash and dry your hair the same day as your session – no exceptions! Please put in whatever product you normally use for curling.
Fresh face. Arrive with clean, moisturized face and without a stitch of makeup.
Be comfy! Wear sweats or even pajama bottoms to the session, or anything that isn't constrictive and could cause seam lines down your legs. (Darn skinny jeans!)
Please shave, wax, and moisturize all areas that could potentially be exposed, and pay careful attention to feet to ensure they are groomed, clean, free of dry or calloused skin, and nail polish is not chipped.
Please make sure you are on time for your session, but no more than five minutes early. Tardiness will result in a shorter session, and we want to give you as much time as possible to achieve gorgeous images that will last a lifetime. A late arrival will cause inevitable missed shots.
What To Bring –
Please bring a pair of nude to your skin tone and a pair of black g-string thong underwear to wear underneath our lingerie items. (Victoria's Secret stocks them ONLINE as well as Amazon!) You must bring a g-string NOT a wide strap thong. Failure to bring these undergarments means you will not able to utilize our client closet.
Nails –
We suggest that if you plan to have your nails done, you use a neutral color like mauve, pink, red, brown, or black. Hands are everywhere in boudoir photography, and bright, neon colors tend to draw the eye. NO WHITE NAILS OR FRENCH TIPS!
We also suggest you refrain from painting the ring finger a different color.
Toes can be painted as well but we suggest that you follow the same rules.
Have fun with glitters and rhinestones. Our studio is sparkly and bright, match your nails to your session.
**If you choose to go outside of our recommendations, we will not make adjustments in post processing.**
Tanning –
Please refrain from all tanning! We will not remove tan lines, and self tanners can leave residue on our garments. We will not allow the session to continue should we discover that you have gotten a spray tan, as it can ruin our linens, furniture, and lingerie.
Do not worry about having no tan or that your skin is pale. It is much easier to add and enhance skins radiant color than it is to take it away.
The Day Before –
Be sure to stretch before your session. We will have you arching and bending. Stretching helps to mitigate unavoidable soreness the next day. Drink lots of water and refrain from drinking alcohol.
Makeup –
If you have makeup ideas for our hair and makeup artist, please bring them. Know that if you haven't had professional makeup done before, it will be much more intense than daytime makeup. You might look in the mirror and think she has gone overboard, but trust me she hasn't. Camera ready makeup is much more dramatic. If you don't have any ideas on how you'd like your makeup done, simply let her perform her magic based on your wardrobe selections and your overall beauty.
Guests –
While we understand there might be some anxiety leading up to your session and you may want to bring moral support, The Studio Haven does not permit friends, relatives, or significant others to attend hair and makeup or the session itself. We want you to have the opportunity to let your guard down completely and not have an audience or feel embarrassed. Likewise, children are NEVER permitted.
Do not bring –
Jerseys, uniforms/gear, and/or props are not permitted (We find that they do not give off the overall vibe our clients are looking for, nor do they allow them to show off the amazing shape of a woman's body. We want to give you the most shape we can and celebrate those curves, so leave those items for those phone selfies!)
We are so excited to work with you and create gorgeous, timeless artwork that represents how gorgeous you are!
Trisha and Lindsay